---
Preparing for a test can be stressful. But don't worry we have some foolproof tips to help you. Whether you are a student getting ready for a final, getting a certification or simply taking a written or online exam we have some tips for you to make the most of your preparation.
---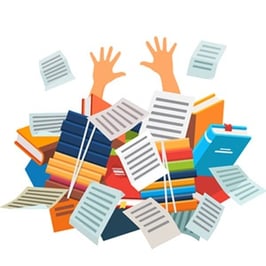 7 Tips to Successfully Cram
for a Test
Use the 50/10 rule. You want to avoid "cramming" for an exam, but if you must, use this rule as a guide: study for 50 minutes, then rest for 10, then repeat.


Use the chunking technique. This is essentially breaking down the major components of the course you're studying for and grouping those components in a way that makes sense to you. Look at the chapter headings in your textbook, then the major terms or ideas in each chapter. Create a list, draw a diagram, or use flashcards to list the key topics and related terms and/or ideas. Review your list, diagram, or flash cards often.


Study with friends if it's helpful. Some people study better with a friend or group of friends. For others, it's a distraction. Do what works for you.


Study somewhere else if it's helpful. Some people find it helpful to study at a library or a coffee shop. Others prefer the comforts of home. Again, do what works for you.


Eat a healthy meal. Steer clear of fast food and empty calories. Try some "brain food" ► whole grains, oily fish like salmon, nuts or blueberries. Full list here


Get a good night's sleep the night before an exam. Studies suggest 7 to 9 hours of sleep is ideal, so try and get to bed at least 10 hours before you have to wake up, giving yourself an extra hour to fall asleep. Avoid looking at your tablet or smartphone once you're in bed. Concentrate on resting and putting yourself in a relaxed frame of mind. Pack your purse/bag the night before – be sure to include bottled water and a snack if it's going to be a long exam day.


Remember that tests are designed to assess your knowledge, not trick or deceive you. Don't make testing out to be something it isn't – an unconquerable, insurmountable beast. An examination is simply a tool used to determine how well you've have absorbed the study documents.
---

Hope some of these tips are helpful so you can pass that test with flying colors!
Good luck! Need more inspiration to eat healthy? See below.
---