---
The holiday season has begun. The weather is changing, commercials promoting holiday deals have begun to take control of the airwaves, and families are preparing for their annual gatherings. Every year, people set high expectations for the holidays. Unfortunately, most of these expectations are never reached. This factor alone is one of the primary contributors to the phenomenon called holiday-induced depression—AKA the holiday blues.
Holiday-induced depression can impact multiple facets of a person's life, including their relationships with family members and even their employers. It can also affect how they view themselves and basic functions including their performance at work.

Holiday-induced depression shares its symptoms with major depression, except that it rears its ugly head during the holiday season. Some of the symptoms include, feelings of hopelessness or anger, losing interest in pleasurable activities, changes in appetite, trouble sleeping, lack of energy, difficulty concentrating, withdrawal and even thoughts of suicide.
---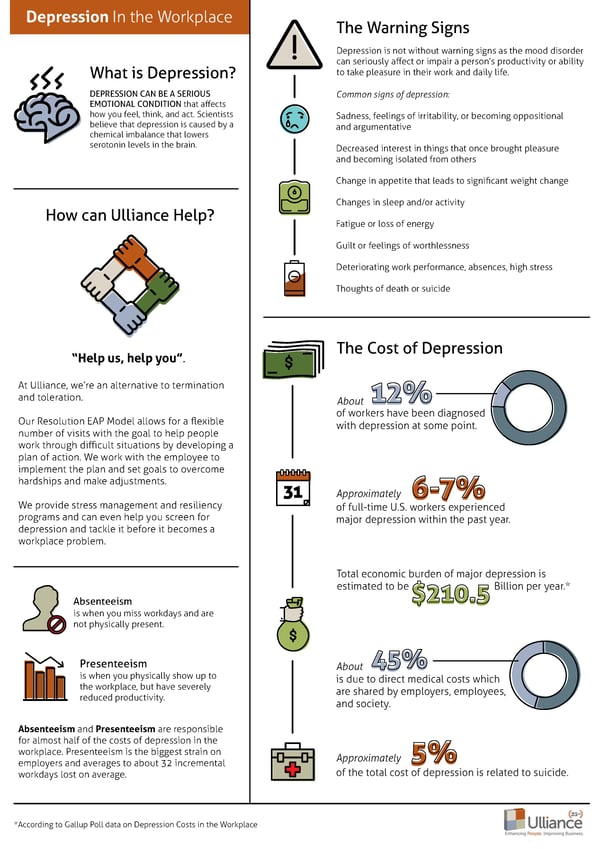 Employers presented with an employee that shows symptoms of holiday-induced depression tend to face a Catch-22: Should they be supportive of their employee, but tolerate their lower work performance; or should they terminate the employee and eliminate the problem? An alternative to both of those options would be to implement employee services like Ulliance's Life Advisor EAP. At Ulliance, we offer Human Resources and Management consultations around many HR – employee issues that impact your workplace, Crisis Management services and Employee Assistance Programs to help your employees cope with their depression and get their life, and their work, back on track. These services provide employers a fresh opportunity to build stronger relationships with their employees and build good morale within the workplace. Helping employees to be fully engaged is good for them and for their employer's bottom line.

Depression in general is a very serious issue. About 12% of office workers have been diagnosed with depression at some point, and the total economic burden of major depressive episodes has reached an all-time high of $210.5 billion per year. According to the American Psychological Association, there is a lack of understanding that depression can be physiological as well as psychological. Putting on a happy face and just "snapping out of it" is not a solution for those that truly suffer from depression.

If you are suffering from depression, it's not hopeless. Some tips to help you cope and feel better include:
Make time for day to day exercise, even as simple as taking a long walk
Save time for fun activities like reading a good book, watching a funny movie or having lunch with a friend
Make a gratitude list
Volunteer, help others in need
Avoid social media
Talk to a confidant and share your feelings
Seek professional care if the condition persists and/or you feel like harming yourself
Call your free and confidential Employee Assistance Program provided by your employer
---
Does your EAP offer a strong return on investment? How about your wellness, training or career transition programs?
Ulliance is a perfect solution for organizations that value their employees and their bottom line.
Ulliance, complete workforce services — that enhance people and improve business.
For more information contact us ► ulliance.com OR 866.648.8326