---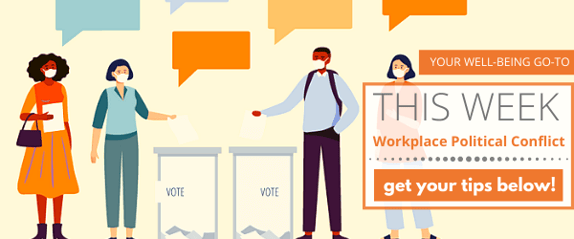 For what seems like a lifetime now, Americans have been hyper-focused - and extremely divided - on politics.
---
It has been nearly impossible to escape the rhetoric, from our social media streams and the supermarket to the family dinner table, and it's taking a toll on workplaces, too.
A survey from the Society for Human Resources Management (SHRM) found that almost half of all Americans have personally had a political disagreement at work.
A Glassdoor poll from earlier this year found that a majority of workers - 60 percent - believe discussing politics at work is unacceptable, though nearly as many, 57 percent, admitted they have talked about politics at work.
Talking politics at work, especially now, can create hostile environments and lead to some folks feeling isolated or criticized. And, if left unchecked, such circumstances can lead to low morale, decreased productivity and it can impact the bottom line as toxic workplace cultures lead to turnover that costs more than $20 billion annually.
But what can we do about it?
---
Consider these 3 tips to prevent workplace political conflict
---
1.) Focus on diversity, equity and inclusion first
Employees who work for organizations that value diversity, equity and inclusion already know how to have tough conversations in a respectful way, and they know how they play a role in supporting open and fair environments. When there's a general understanding that everyone has values, beliefs and opinions that are framed by their own unique experiences, there's more mutual respect and less chance for hostility.
---
---
2.) Establish a clear policy about political speech and activity at work

Like any other workplace policy, a policy on political activity at work should clearly outline what is and what is not acceptable.
Such a policy should be centered around mutual respect and creating a positive workplace for all employees, and not focus on any single person, political party, ideas or beliefs.
3.) Set an example from the top and monitor discussions

Leaders at all levels should aim to set an example here and not talk politics, especially with direct reports. This includes making jokes about a specific candidate, policy or party. If a supervisor hears employees talking about politics while on the clock, they can help to turn the conversation in another direction by reminding staff that customers are present or that such topics should be saved for after hours. In this case, monitoring conversations is not meant as a means by which to control employee beliefs, but instead to help prevent a potential conflict in the workplace.
---
Now more than ever, your employees need emotional support and resources. The pandemic has created a whole new set of physical, financial and emotional stressors that have woven their way into the home and workplace.
Hundreds of organizations support their employees through The Ulliance Life Advisor Employee Assistance Program (EAP). Investing in the right EAP to support your employees before, during and after they face adverse events will help them and help you. Visit www.ulliance.com, or call 866-648-8326.
---
When you partner with Ulliance, our Life Advisor Consultants are always just a phone call away to teach ways to enhance your work/life balance and increase your happiness. The Ulliance Life Advisor Employee Assistance Program can help employees and employers come closer to a state of total well-being.
Combining years of clinical experience and the formation of a meaningful partnership with an organization's human resources department, Ulliance is among the best EAP providers, and our experts can tailor recommendations for a variety of work\life circumstances.
Investing in the right EAP or Wellness Program to support your employees will help them and help you. Visit www.ulliance.com, or call 866-648-8326.
The Ulliance Employee Assistance Program can address the
following issues:
• Stress about work or job performance
• Crisis in the workplace
• Conflict resolution at work or in one's personal life
• Marital or relationship problems
• Child or elder care concerns
• Financial worries
• Mental health problems
• Alcohol/substance abuse
• Grief
• Interpersonal conflicts
• AND MORE!