You made it through Halloween, and now, like every other holiday season as a grown-up, the rest of the year will be packed with stress, decisions, shopping, too little time and too much food.
There will be festivities and family memories made. Presents will be under the blinking Christmas tree, candles will be lit of the Menorah or the Kinara and some of the youngest of the group will be looking up in the sky for a deer with a red nose.
But this year, COVID has bestowed more inconvenience upon you with short supplies and higher prices. How will you afford this holiday season when you are budgeting to make ends meet already?

Remember, you aren't alone in the struggle. Everyone is going through this together, and together we will get to the other side.
5+ Tips to Let Your Spirit be Your Guide
Here are some inspiring ideas for celebrating Christmas or the holiday season in general.
Mix it up this year and focus on the spirit of giving. Whatever your beliefs, you have an "inner sense" that guides you. We all do. (Whether or not we listen to it is a whole other subject.)

There are many ways to give something special, and it doesn't have to cost a fortune. Be creative. Be crafty. Be selfless. Be helpful. Think about what someone could use the most. The options are almost endless.
1. Family/Friend/Neighbor Swaps –
This works well with young children. Choose items your child doesn't play with anymore and list them on social media. Ensure they are in good condition and put what types of items you would like to swap for. Kitchen items, unopened bath and body stuff like scented bath bombs and candles are also good trades.
2. More for Your Money –
Start browsing thrift stores. Goodwill, Salvation Army, Twice Nice and other similar shops are best-kept secrets. People donate good items to these stores, some of which have never been used. You can also check out moving and garage sales and auctions.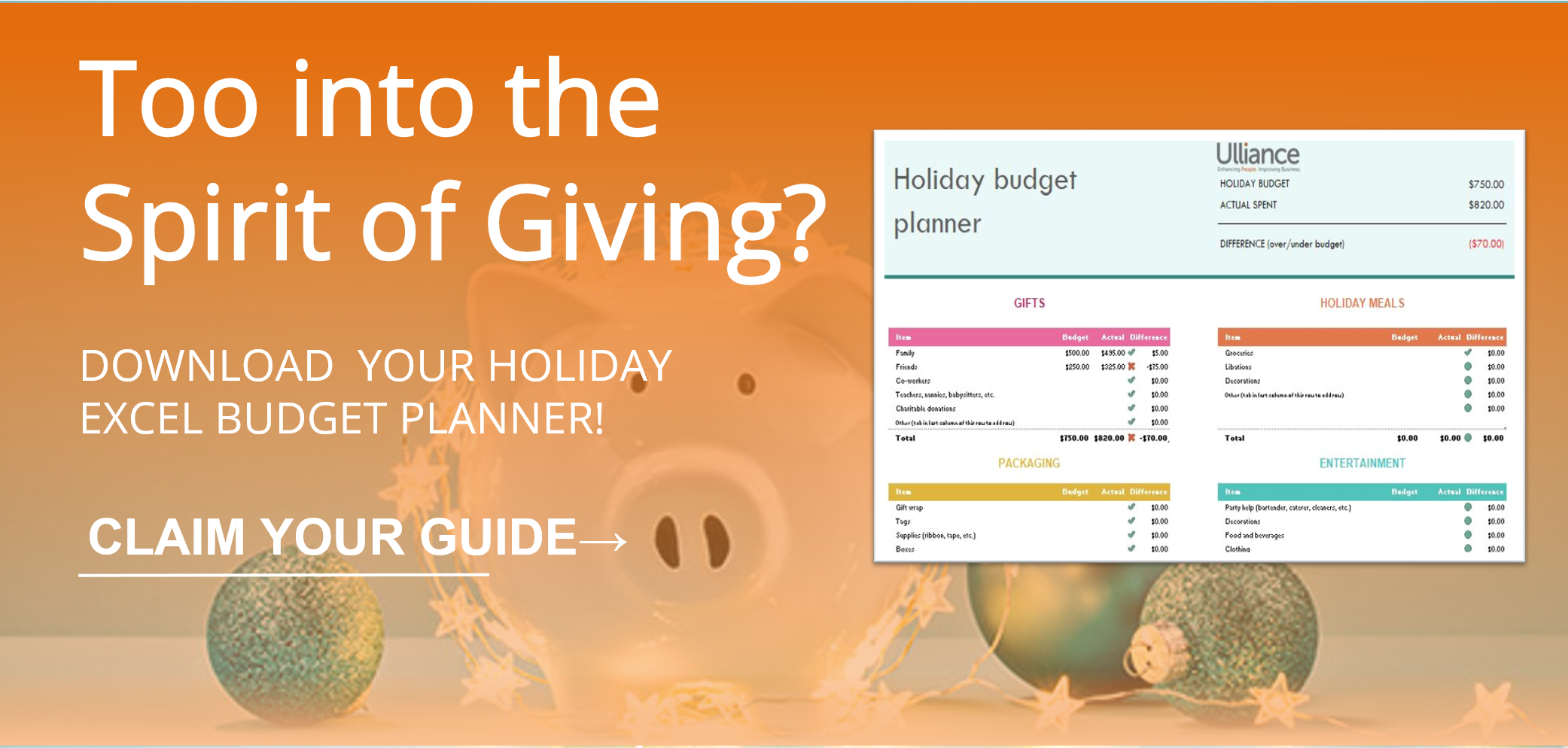 3. Put it Together Yourself –
It's difficult to give kids homemade gifts when they are expecting toys but look up science for kids and check out handmade games on Pinterest to find something they will enjoy. And for everyone else, keepsake gifts are always treasured.
4. Make Some Memories –
Take the focus off presents. Enjoy the season by taking a drive to look at Christmas lights. Decorate your tree with only homemade ornaments this year and get everyone involved in making them. Watch classic Christmas movies. Bake holiday favorites together. If you live where it snows, play in the snow, and if you don't, take a trip to the snow.
5. GET BACK TO BASICS –
The giving of gifts has little, if anything, to do with the religious requirements of most religious holidays. Dig in and get back to the real roots of how and why you celebrate this time of year.
Sometimes the greatest gifts you can give come from a place of compassion. Like words of kindness to a tired server or your time to a babysit for a frazzled, worn-out mother.
Refocus your Focus
Cultures and religions celebrate special days differently, and one way isn't better than another. It's simply different from your own. Traditions vary from family to family, faith to faith and church to church. All are equally special.

As you all know, over the years, the holiday season has become commercialized, and the focus is often on "what am I going to get" rather than "what am I going to give."
With two years of COVID under our belt this year, many holiday trees will not be home to mounds of presents. Consumers will pay an average of 20% more for their holiday gifts this year, and with most households increasing expenses and decreasing incomes, anxiety around gift-giving has increased.
The holiday seasons doesn't have to center around giving presents or focusing specifically on religious celebrations. It can be about goodwill.
The Bright Side –

Light up the winter holidays with meaningful time together. Every Friday in December, light the tree, the menorah or a few candles and have desert around together.

Have each person say what they are grateful for and answer the question, "if you had 5 million dollars, who would you help and why and if you had 10 dollars, who would you help and how?" In giving, we receive the greatest gifts, and the spirit of giving begins inside you.

You could also tell stories or read holiday themed books aloud or find a family
game to play.


Your Gift -

Your time is precious and valuable. Giving it away to someone in need is more valuable than anything you could buy. The family could volunteer at a homeless shelter and serve a meal. You could visit an older person in a care center, bring them cookies and spend time listening to their memories.





Adopt a Family/Child –

Getting to know a child or a family that is less fortunate than you and making their holiday one to remember can build an attitude of giving and sharing that lasts long after the holiday season is gone.

A lean holiday doesn't mean it will be a bad holiday. Make new family traditions, put together a slide show of the past year to show at a family gathering, play games, enjoy being together.

Everyone can enjoy the holiday season, stick to their budget and make lifelong memories. The magical part of the holiday season shows up when your spirit is filled with kindness and goodwill.
---
Hundreds of organizations support their employees through The Ulliance Life Advisor Employee Assistance Program (EAP). Investing in the right EAP to support your employees before, during and after they face adverse events will help them and help you. Visit www.ulliance.com, or call 866-648-8326.
When you partner with Ulliance, our Life Advisor Consultants are always just a phone call away to teach ways to enhance your work/life balance and increase your happiness. The Ulliance Life Advisor Employee Assistance Program can help employees and employers come closer to a state of total well-being.
Investing in the right EAP or Wellness Program to support your employees will help them and help you. Visit www.ulliance.com, or call 866-648-8326.
The Ulliance Employee Assistance Program can address the
following issues:
• Stress about work or job performance
• Crisis in the workplace
• Conflict resolution at work or in one's personal life
• Marital or relationship problems
• Child or elder care concerns
• Financial worries
• Mental health problems
• Alcohol/substance abuse
• Grief
• Interpersonal conflicts
• AND MORE!
---
References

Aezer, S. (2020, November 21). Tips For Holiday Financial Success. Retrieved from U Fiancial Wellness Center: https://financialwellness.utah.edu/blog/posts/2020/dec.php
CFP, K. D. (2021, October 13). 38% of women face holiday spending stress, survey finds. Here are some ways to prepare. Retrieved from CNBC: https://www.cnbc.com/2021/10/13/38percent-of-women-worry-about-holiday-expenses-heres-how-to-prepare.html
How to create a magical Christmas when you have no money! (2015, September 21). Retrieved from One Beautiful Home: https://www.onebeautifulhomeblog.com/create-magical-christmas-no-money/
Jose, C. A. (2021, October 21). FINANCIAL WELLBEING DURING THE HOLIDAYS: 3 TIPS TO AVOID MONEY-RELATED STRESS. Retrieved from allwork: https://allwork.space/2021/10/financial-wellbeing-during-the-holidays-3-tips-to-avoid-money-related-stress/