---
On Nov. 6, 2018, several states voted on legalizing marijuana. Michigan voters approved a measure that legalizes recreational marijuana. Voters in Missouri and Utah approved measures that legalize medical marijuana.
In Wisconsin, voters in 16 counties and two cities supported various levels of marijuana legalization through advisory referenda. Voters in five Ohio cities also approved local measures to decriminalize marijuana possession. North Dakota voters, on the other hand, rejected a measure that would have legalized recreational marijuana.
---
TO REVIEW A SUMMARY OF FEDERAL AND STATE MARIJUANA LAWS ALONG WITH THE COURT DECISIONS SURROUNDING THE LAW & A HANDY REASONABLE SUSPICION CHECKLIST— CLICK BELOW!
New Legalized Marijuana Laws - Use,

Possession

& Cultivation Laws
We all know that Michigan joins nine other states and the District of Columbia in legalizing recreational marijuana use—but what does that really mean? And how does this impact employers and employee rights—if can get a little cloudy. The table below provides an overview of Michigan's Proposal 1, which was approved by nearly 56 percent of the state's voters on Nov. 6, 2018.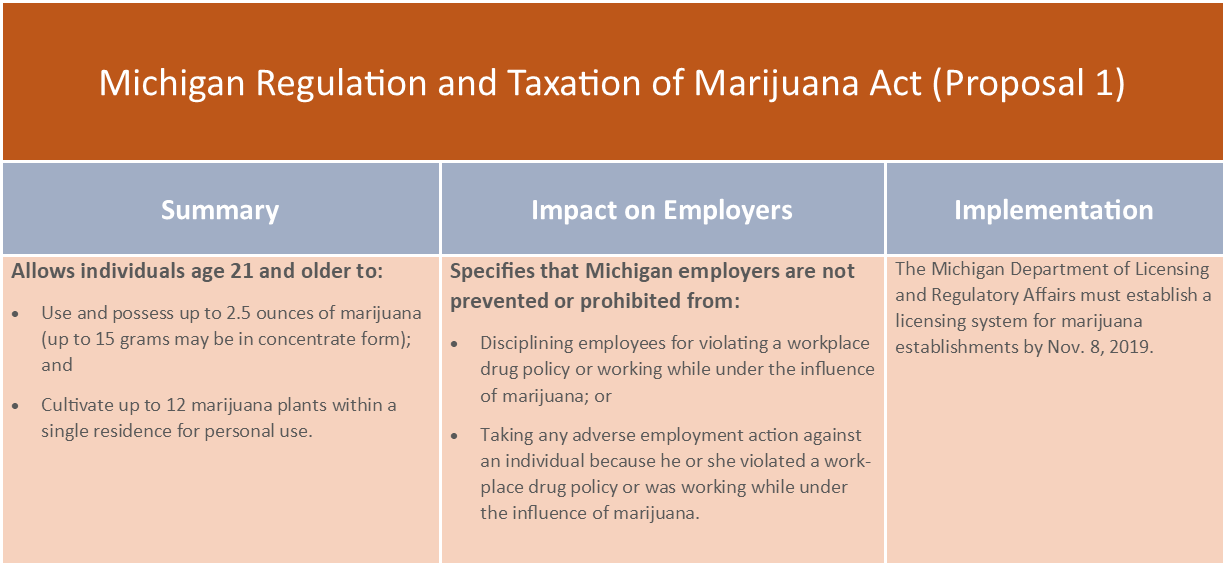 ACTION STEPS
In general, employers may still ban marijuana from their workplaces and prohibit employees from working under the influence of marijuana.
---
However, it is not always clear whether an employer may take adverse employment actions against an employee based solely on a positive test for marijuana. As a result, several courts have issued decisions on this issue. These decisions will answer this question for employers in some legalized marijuana states and may be helpful for employers in others.
---